The Wanderers of Elkhòren
Edit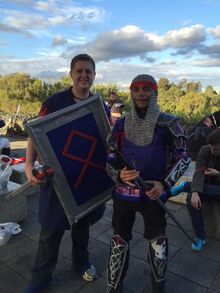 Have you ever felt alone, out of place, even in the world you've grown up in? For the members of The Wanderers of Elkhòren they have all felt this way in one form or another. Whether the home they grew up in no longer feels like one, they have no home left to go back to or do not even know where their home may be.
These men and women (hopefully) search the land together for a place they can call home. Finding along the way that having someone to travel with, share their load and even help defend when danger may approach, is a valuable asset in many of the unforgiving lands.
Each member has their own story to tell and if you were to offer them a drink I have no doubt they would tell the entire story. Throughout these travels, though they may yet find the homes they all seek. Or perhaps realise that the once distant thought of a home, or family is not as far out of reach as they once thought. As it has been told many times before "Home is where the heart is".