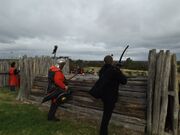 The Rangers of Rhobis are an honourable order, that operate out of the wooden fort-town of Rhobis. They wander far and wide, boasting master archers and skilled swordsmen, hunting those wicked things which menace the peoples of Elgardt.
In recent months, the rangers have deemed it necessary to take their mission further north. In the mouth of Hamaglen Pass, they hope to bring their noble style of justice to the lawless and bloodstained region.
Purpose in Elgardt
Edit
One would assume their purpose is to protect the weak and preserve the wilds.