Sometimes after many years of adventuring decisions are made to hang up the sword and shield and settle down with a family or cross-stitch.
Sometimes they never make it out of the dragon's den.
Sometimes they decide to shun people and delve deep into the forests only to return when in need.
Sometimes they just decide to move on to greener pastures.
These are the characters of renown who currently aren't common sights around Aylet.
This list is still being amended
Human Characters
Edit
Keegan O'Mordor
Dread Pirate Roberts
Brannan Macleod
Dwarven Characters
Edit
Kaldash
Dragonkin Characters
Edit
Nefurian Blackwing
Gorlacon
Shifter Characters
Edit
Elven Characters
Edit
Sevator Crowlord
Kor Phaeron
Huron
Dark Elven Characters
Edit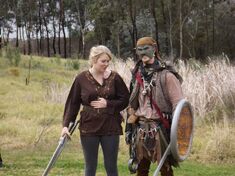 Felmar
Maloghurst the Twisted
Typhon the Doom-Prophet
Lucius the Winnower
Mobart
Orcish Characters
Edit
Mountain
Doukeshi (The Death Jester)
Troll Characters
Edit
Undead Characters
Edit
Balthazar
Sigil
El Gregor
Elemental Characters
Edit
Ys'Teef
Small Folk Characters
Edit
Rin
Half Breeds Characters
Edit
Kayvaan Shrike
Skollwulf
Celestial/Abyssal Characters
Edit
Nikolas VonDien "The Voidwalker"
Dirge
Ad blocker interference detected!
Wikia is a free-to-use site that makes money from advertising. We have a modified experience for viewers using ad blockers

Wikia is not accessible if you've made further modifications. Remove the custom ad blocker rule(s) and the page will load as expected.